Tech Talent Link Named "Great Recruiters Certified 2022"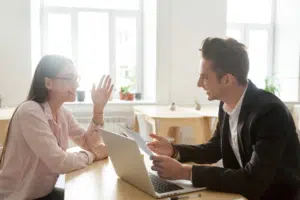 Lake Oswego, Oregon — February 28, 2022 – Tech Talent Link announced today it has been named Great Recruiters Certified 2022 by Great Recruiters, a leading experience and reputation management platform specifically designed for recruiting and staffing organizations.
Great Recruiters Certified 2022 recipients have earned this distinction by putting into place and following processes to ensure a great experience for their candidates and customers, as well as displaying review ratings that demonstrate their commitment to the highest level of recruitment practices. These recipients commit to excellence by offering a simple way to provide transparency to the experience they provide for future job-seekers and to clients who are interested in working with their staffing organization in the future.
"Tech Talent Link is among those staffing organizations that sets the standard for innovation, success, and candidate and client satisfaction in the incredibly competitive world of recruitment," said Susan Robinson, Chief Talent Connector at Tech Talent Link. "This certification is a testament to the skill, ingenuity, and commitment made by our staff who, like Great Recruiters, aspire to transform the reputation of the recruiting industry."
"Our customers and candidates deserve a low pressure, enjoyable experience in the recruiting process," stated Ben Newbill, Director and Lead Talent Connector at Tech Talent Link. "At Tech Talent Link, I get to be a real partner with Technology professionals who are looking for someone they can depend on.  Delivering for people who need help is a real motivator."
In order to be considered as a Great Recruiter Certified 2022, recruiting firms must meet a set of criteria, which includes being on the Great Recruiters platform for a minimum of six months; regularly soliciting feedback from jobs-seekers and placed talent; achieving an average Great Recruiters rating of 4.6 or higher; and at least 33% of the agency's recruiting team achieving Great Recruiter certification.
About Tech Talent Link:
Since 2013, Tech Talent Link provides technical staffing services.  Founded on the believe that the hiring process should be a positive experience for their candidates and clients, Tech Talent Link continuously works hard to find ways to improve this process. Tech Talent Link's experienced team uses their industry knowledge as well as their true desire to help their clients and candidates to successfully match technology professionals with their next careers opportunity as well as help their clients solve their technical staffing needs.  Visit www.techtalentlink.com to learn more. 
About Great Recruiters:
Great Recruiters was founded in 2017 with a simple mission to increase trust and transparency in the recruitment industry. Great Recruiters provide its clients with a simple and meaningful way to capture, act-on, measure, and promote real-time feedback from those they serve. In an industry with low barriers to entry, Great Recruiters believes it is imperative to help job seekers find and identify great recruiters and staffing companies that can help serve their needs.
https://www.techtalentlink.com/wp-content/uploads/2022/02/great-recruiters.jpg
667
1000
user
https://www.techtalentlink.com/wp-content/uploads/2019/12/TTL_Size_Logo-small_opt.jpg
user
2022-02-28 12:00:44
2022-02-28 20:26:53
Tech Talent Link Named "Great Recruiters Certified 2022"