Tech Talent Link Named a top Rated Staffing Firm for the Second Half of 2023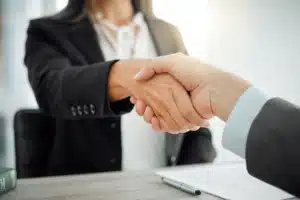 January 20, 2023 (LAKE OSWEGO, OR) — Tech Talent Link is proud to announce that it has been named a Top Rated Staffing Firm award for the second half of 2022. This recognition from Great Recruiters recognizes Tech Talent Link's achievements in candidate experience, organizational efficiency, and brand reputation.
Joining the ranks of over 100 prestigious firms, Tech Talent Link has demonstrated their commitment to capturing and acting on candidate and client reviews, using those insights to provide even better experiences to the people they serve.
"Tech Talent Link has always striven to set the standard for innovation, success, and candidate and client satisfaction in the incredibly competitive and rapidly changing world of recruiting," said Susan Robinson, Chief Talent Connector at Tech Talent Link. "This award is a testament to our staff's commitment to proactively seeking feedback, which makes it possible for us to provide an exceptional experience throughout the hiring process."
"Our customers and candidates deserve a low pressure, enjoyable experience in the recruiting process," stated Ben Newbill, Director and Lead Talent Connector at Tech Talent Link. "At Tech Talent Link, I get to be a real partner with Technology professionals who are looking for someone they can depend on.  Delivering for people who need help is a real motivator."
The Great Recruiters Top Rated awards provide external validation that Tech Talent Link is a leader in the IT staffing sector. "I could not be more proud of the hard work our Top Rated award winners have put in every day to earn this award," said Adam Conrad, Great Recruiters founder & CXO. "Our Top Rated staffing firms show that creating and measuring great experiences is key to being competitive in 2023 and beyond. It's an honor to work with this cohort of industry leaders."
This validation is also reflected in job-seekers' reviews. In one such review, a candidate wrote "Annie was a great help in connecting me with my new employer. She made sure that I was prepared ahead of time, and followed up with me every step of the way. I would be happy to work with her again!"
About Great Recruiters:
Great Recruiters is an experience management and brand promotion platform that automates online review capture down to the desk level, enabling users to provide better experiences, increase referrals, improve organizational efficiency & QA, and grow their brand reputation. To learn more about their Top Rated awards, visit https://greatrecuriters.com/.
About Tech Talent Link:
Since 2013, Tech Talent Link provides technical staffing services.  Founded on the believe that the hiring process should be a positive experience for their candidates and clients, Tech Talent Link continuously works hard to find ways to improve this process. Tech Talent Link's experienced team uses their industry knowledge as well as their true desire to help their clients and candidates to successfully match technology professionals with their next careers opportunity as well as help their clients solve their technical staffing needs.  Visit www.techtalentlink.com to learn more.
https://www.techtalentlink.com/wp-content/uploads/2023/01/Top-Rated-Staffing-Firm.jpg
836
1254
user
https://www.techtalentlink.com/wp-content/uploads/2019/12/TTL_Size_Logo-small_opt.jpg
user
2023-01-24 12:00:45
2023-08-04 16:12:10
Tech Talent Link Named a top Rated Staffing Firm for the Second Half of 2023